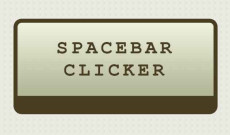 Spacebar Clicker
Spacebar Clicker is not a traditional game, but rather an online tool or application designed to measure how quickly and accurately you can press the spacebar key on your keyboard. It's commonly used to assess typing speed, particularly the speed at which you can press the spacebar key. This tool is helpful for individuals who want to evaluate their keyboard proficiency, whether for
GAME INFO
Categories & Tags:
Spacebar Clicker is not a traditional game, but rather an online tool or application designed to measure how quickly and accurately you can press the spacebar key on your keyboard. It's commonly used to assess typing speed, particularly the speed at which you can press the spacebar key. This tool is helpful for individuals who want to evaluate their keyboard proficiency, whether for work-related tasks, typing practice, or gaming. The objective of the test is to achieve the highest possible number of spacebar presses within a set time frame. It's a simple, time-based exercise that users can repeat as many times as they like to improve their spacebar pressing speed.

Instructions
Here's a guide on how to use "Spacebar Clicker":
How to Use Spacebar Clicker:
Access the Website: Visit the website or platform where Spacebar Clicker is hosted. You can typically find such tools on various typing and clicking speed testing websites.

Start the Test: Once on the website, you'll usually see a spacebar or a designated area where you can click to begin the test.

Click the Spacebar: Click the spacebar on your keyboard as quickly as possible. The test will measure the number of times you press the spacebar within a specific time frame.

Get Your Result: After the test is complete, you'll receive a result that shows your clicking speed in terms of the number of spacebar presses per minute or per second.

Repeat the Test: You can repeat the test as many times as you like to improve your speed or assess your progress.
Controls:
Controls for "Spacebar Clicker" are typically limited to using your keyboard's spacebar.
Winning:
Unlike traditional games, "Spacebar Clicker" doesn't have a win condition. The objective is to measure and improve your spacebar clicking speed. You can compare your results with friends or aim to achieve a personal best. Many users find this type of test helpful for assessing their typing or clicking skills, especially if they use the keyboard frequently for work or gaming.
While "Spacebar Clicker" may not be a traditional game, it serves a practical purpose for individuals looking to gauge their keyboard proficiency or simply have fun competing against their own or others' clicking speeds.